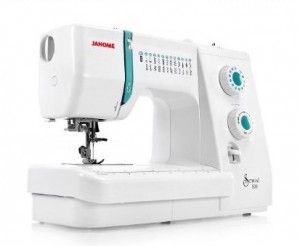 If you enjoy sewing, you know how important it is to have a reliable, easy-to-use sewing machine to work with. One of the most popular sewing machines, with sewing fans of all levels of experience, is the Janome Sewist 500 Sewing Machine.
This model packs in more features and easy to use options than most other sewing machines that cost a heck of a lot more. From the wide variety of built-in stitches to the hard cover that's included, the Janome Sewist 500 Sewing Machine is definitely a tough act to follow when it comes to value and usability.
Simpler Sewing
If you really love to sew, you know that doing complicated, repetitive set up tasks is the worst part about it. There's nothing worse than straining your eyes for 15 minutes to thread a needle or fighting with complicated set up options.
With the Janome Sewist 500 Sewing Machine sewing just got a lot easier. With a built in, automatic needle threader, you'll never spend your time being frustrated or straining your eyes. This threader takes care of all the tough stuff for you, so you can get back to your sewing projects quickly.
Janome Sewist 500 Sewing Machine Features
Features 25 built-in stitches including utility stitches and decorative stitches
1 step automatic buttonhole
Automatic needle threader
Free arm for sewing cuffs and collars
Built with an adjustable presser foot
Comes with bobbins, felt, screwdriver, seam ripper, buttonhole ripper, quilting guide, extra needles and much more
Most sewing machine manufacturers would stop with building a nice sewing machine, but with the Janome Sewist 500 Sewing Machine, Janome has really pulled out all the stops.
Included with your purchase is a generous supply of all the sewing accessories you could need to get started on that next big sewing project right away. That means you can take the Janome Sewist 500 Sewing Machine out of the box and get right to work.
What Are People Saying?
It's always nice to see what the real life customers have to say about a sewing machine before you buy it. We found over a dozen Janome Sewist 500 Sewing Machine reviews from real life customers.
The majority of these online reviewers gave this model very high marks. One customer complained about the sewing machine being very loud, but this appears to be an isolated mechanical issue.
If you're in the market for a sewing machine that's made to make your life easier, it's hard to beat the Janome Sewist 500 Sewing Machine.